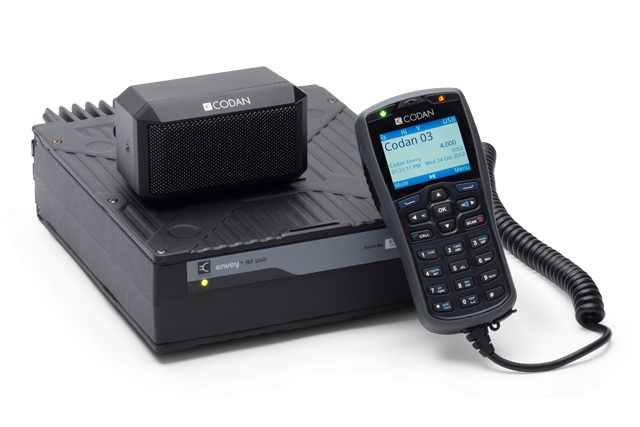 Envoy
The Codan Envoy™ series radios are the most intuitive, reliable and advanced radios we've ever built.Envoy's clear and dependable High Frequency (HF) voice and data communications means you have the confidence to communicate anywhere and anytime without the need for existing infrastructure, enabling true long range digital radio communications.
A true software-defined radio (SDR), Envoy delivers new capabilities to the radio through software upgrades so you'll always have access to tomorrow's features today. No matter what your communication scenario, Codan has you covered with Envoy's scalable mobile and base station solutions — all in an affordable platform.
With Ethernet and USB connectivity, a large high-resolution colour display, and multi-language user interface — combined with legendary Codan performance, reliability and support — the Envoy smart radio is the new standard for HF communications and your solution for long range digital radio.
Codan's Envoy HF Radio delivers dependable, clear, trouble-free voice, messaging and data communications, without dependence on existing infrastructure.
Options
Data Modem (Robust low rate)
CHIRP/QPSK, 2400 bit/s (up to 6000 bit/s using in-built compression)
Data Modem (high speed)
MIL-STD-188-110A/B, STANAG 4539, 75 to 9600 bit/s
Encryption
CES-128, 97 x programmable 16-digit keys, 4-digit PIN (Voice only)
Vocoder
MELPe (1200/2400 bit/s)
Software applications
TPS-3250 Radio Programming Software *Internav™ GPS Tracking

*RC50-C Email (for high-speed modem)
*Codan Chat (for robust low rate modem)

Language support
English, Chinese, Spanish, Russian and Dari
Accessories
– 500 W / 1 kW High Power Amplifiers
– 3040 Automatic Whip Antenna
– 3033 Telephone Interconnect
– 3020 AC Mains Supplies
– Dual-port Antenna Selector
– Vehicle Installation Kit (including dash-mount)