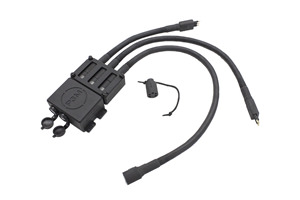 Ancillaries
The Multiple Battery Interface (MBI) allows an operator the ability to use multiple batteries to extend the range of the Jetboots. The MBI can accommodate dual battery operation without the need to change or hot swap batteries.
The Jetboots Prop Puller is a tool that can be utilized to separate a Prop from the Collet when normal hand techniques cannot. It consists of hard-anodized aluminum jaws and lock ring with stainless steel hardware.
Prop retention tool allows the end user to securely and safely retain the Prop during removal and installation procedures.
State of charge whip – Fully self contained, water resistant electrical device allowing for quick state of charge voltage readings.